This shop has been compensated by Collective Bias, Inc. and its advertiser. All opinions are mine alone. #StockedWithLove #CollectiveBias
I know that sometimes the holidays have a bad reputation for being all about material things. However, my love language is gift giving so I actually love the excuse to shower the people I love with gifts. One person who deserves more than any random gift is our child care provider. She is amazing and takes such wonderful care of our little guy while we are at work. Now that Aiden is older and loves to paint I thought this would be the perfect opportunity to make our child care provider a gift from the heart — a toddler DIY ornament and stocking stuffed with useful and fun items.
While I was browsing Target after Thanksgiving I came across the amazing Band-Aid® Brand Adhesive Bandages holiday collection. These Band-Aid® Brand Adhesive Bandages come in fun holiday colors and patterns. I thought they would make a perfect stuffer for a cute stocking gift. Afterall, BAND-AID® Brand Adhesive Bandages heals hurts faster and is the #1 doctor recommended brand. I also love that Target has lots of other styles of BAND-AID® Brand Adhesive Bandages like Paw Patrol and Star Wars (which Aiden would love).
Click on the picture to shop Band-Aid® Brand Adhesive Bandages.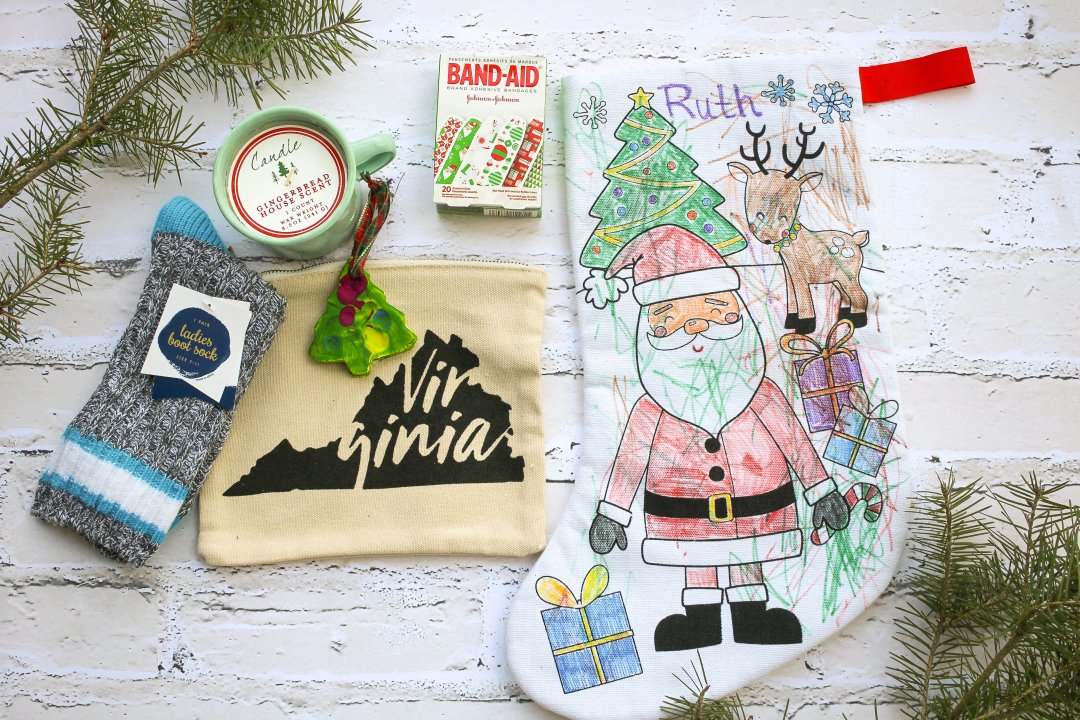 Now that I knew what I wanted to do it was time to find a stocking and some other fun stocking stuffers. I checked the dollar section first and I am so glad I did because I found a coloring book style stocking. Aiden loves coloring and that is something he does at day care often so and I knew it was perfect. Plus, there were lots of fun items in that section that I used to fill the stocking.
Along with the stocking that Aiden colored, we also created a super simple DIY ornament that Aiden could actually do most of the work himself. It took us a couple of days because it required a few layers of clay and paint, but that worked out better anyway since our two-year-old doesn't have the longest attention span. We had a ton of fun creating the Christmas tree ornaments and it was a great mom/son bonding experience.  I found all the materials while we were at Target.
Check out this video to see how we made them. Also, written instructions are included below.

Supplies:
Air Dry Clay
Tip Proof Washable Paint
Christmas Tree Cookie Cutter
Ribbon
Small paintbrush
Ribbon
Steps:
1. Take out a chunk of clay and flatten so that it is about 1/4 to 1/2 inch thick.
2. Use the tree cookie cutter to create the shape and peel the extra clay off from around the edges.
3. Poke the end of the paintbrush or a skewer through the top of the ornament. This is where you will put the ribbon that holds the ornament. Don't do it too close to the edge of the tree because the tip of the tree might break off.
5. Have your toddler stick his/her index finger in the dough to make indents for the ornaments. You will want to do this quickly before the clay starts to set.
6. Remove the dough from the cookie cutter and set ornament out to dry. It takes about 8-10 hours for the clay to dry completely; however, we waited a full 24-hours.
7. Once the clay is dry, have your toddler use a small paintbrush to paint the clay.


8. Wait until the base paint dries (approximately 2 hours) then have your toddler use his or her finger to add color to the fingerprints he/she made for ornaments.
9. When everything is dry add a coordinating ribbon through the hole that you made on the top of the tree.
We did our toddler DIY ornament over three days and it came out perfectly.
Once the stocking was colored and the ornament was dry this is what we added to the stocking:
Comfy socks
Gingerbread scented candle
Handmade tree ornament
Pouch
This stocking and toddler DIY ornament was so easy and fun to put together but I know all the personal touches will mean a lot to our child care provider!