Before having Aiden I spent a lot of money on clothes. I had outfits for work, outfits for going out, and casual outfits. Now, I spend all my money on clothes for Aiden 😆 (but really, I'm obsessed!) These days, when it comes to style, I want something I can transition to be appropriate for whatever I am doing that day whether it's play dates with my mom friends, date night with my husband, or a work event. That's why I am excited to partner with the trendy online boutique PinkBlush which is a one-stop-shop to finding great pieces for the busy mom that are easily styled for any occasion. Here are some tips for styling a PinkBlush maxi dress from day to date night!
Disclosure: I received a maxi dress from PinkBlush in exchange for my honest review. Affiliate links are included, which means if you make a purchase I may receive a small commission at no additional cost to you. I only write about products I love. Thank you for supporting the brands that support this blog.
During the day I am running around with a toddler. I am walking, carrying, bending, and squatting so I need something that I can easily move around in. Jewelry is out because it is basically a target for being pulled or ripped off (unless I am wearing my teething bangles). I might be at a local play space or museum with other moms so I usually like to have something warm that I can take on and off. I find that layers are important for moms!
Here is my play date look:
It was SO easy to take this look from day to night. I wanted to look a little more sophisticated and less mom-ish. Date nights for us usually include dinner and a movie, or sometimes a local brewery. I still like to be comfortable so that's a priority but I can add some cute shoes and jewelry to complete my date night look.
Date-night look:
I wasn't much of a maxi dress wearer before Aiden arrived, but since becoming a mom I love how easy they are to dress up and down. You will definitely find me living in this dress this spring and summer!
Click the image to shop this look!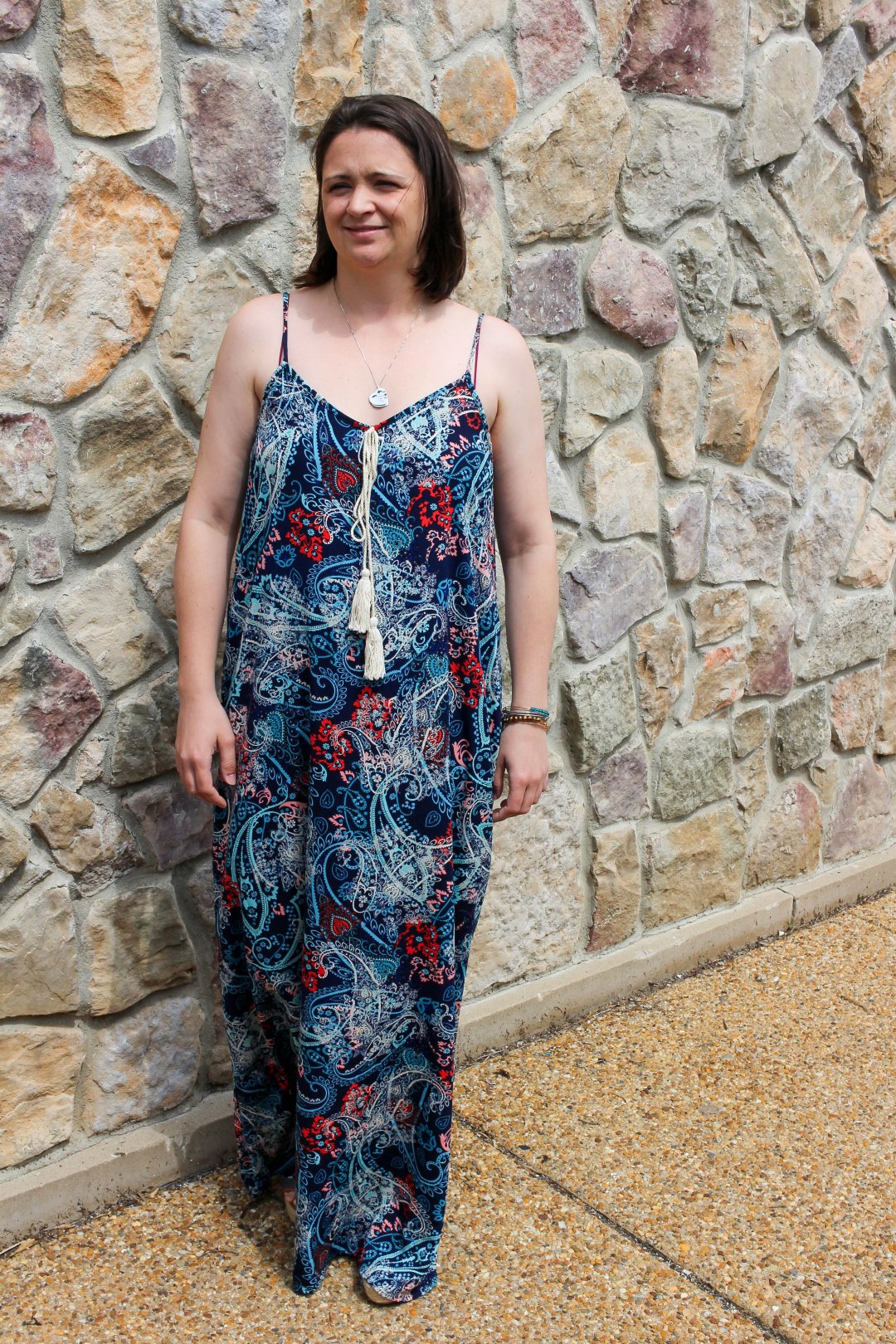 If you haven't checked out PinkBlush you should! They have dresses, tops, shoes, sleep, swim, accessories — basically anything you need for your wardrobe. In addition to women's clothes they also have great maternity options and things like the maxi dress I am wearing that could work for both pregnant and non-pregnant women.
I am excited that PinkBlush has offered a Baby Castan on Board reader a $50 shop credit to try them out. To enter, fill out the RaffleCopter widget below.
How did your style change once you became a mom?
If you liked this, check out Post Baby Style: Post-Pregnancy Jeans and Dressing Post-Baby: Spotlight LuLaRoe.
Don't forget to check out our daily adventures on Instagram and Facebook. You can also join my mailing list to receive periodic updates and bonus content.
Linked to:
Mix It Mondays
Trend Spin Linkup
Save
Save