I can't believe Memorial Day Weekend is here! This is my favorite weekend to shop. There are always great deals for moms and toddlers and it's a great time to stock up for summer. I've put together a list here of the best memorial day weekend deals I've found. I will update this as I find more throughout the weekend!
Disclosure: Affiliate links are included, which means if you make a purchase I may receive a small commission at no additional cost to you. I only write about products I love. Thank you for supporting the brands that support this blog.
Baby/Toddler Memorial Day weekend Deals
Buzz Shack — Use code REMEMBER for 25% off your purchase. I love this shop for its clever tees usually incorporating song lyrics. I am getting this "chalk it out" tee and "Fireworks and Grill" tee.
Modish Trends Shop — Take 20% off your purchase. This is one of my new favorites. I love the tees and plan to stock up on a few while the prices are so good! I currently have in my cart the Cool Story Bro tee, Superhero Squad Goals tee, and Weekend Vibes tee. They also have some really cute dad and me tees. I am trying to decide between big fish/small fry and superhero/sidekick tees. The 20% off code will be announced tomorrow and there is a  30% off code for a flash sale on Monday from 6-9pmPST.
River Babe Threads — Use MEMORIAL25 to take 25% off your purchase. I have a lot of the items from this shop already and they are always releasing amazing new stuff. On my list this weekend is the America hoodie. This is where I got the My Hero Wears Blue Shirt.  I also got a few things for Dan for Father's Day (shhh!)
LuLu and Roo — Use code memorial25 for 25% off your purchase plus free shipping over $75. This is one of my favorite shops for comfy lounge wear for Aiden.
Finn and Emma — Use Memorial17 for 20% off. We love this shop for fun, organic baby toys, blankets, and clothes. You can read more about it here. You will definitely want to check out the adorable play gyms if you have a little one on the way.
Hunter Boots — This isn't really a memorial day deal but just a good deal in general. You can pick up a kids pair of Hunter boots for $38.95 and then if you join the Hunter mailing list apply an additional 10% plus free shipping! They also have a deal for moms (see below).
Tiny Baby Soles — Use code MEMORIAL for 20% off your total purchase. I love the moccasins at this shop. I will be getting Aiden the dinos and donuts. They also have great plain colors if you aren't into prints.
Hanna Andersson — Lots of items are up to 50% off this weekend (no code needed)! I love the family red, white and blue pajama collection.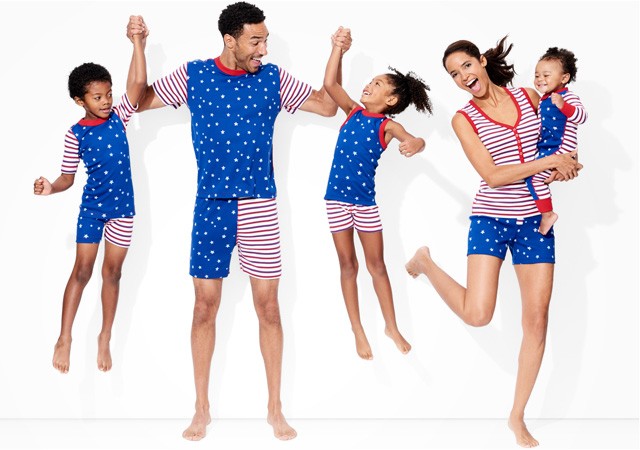 Janie and Jack — Additional 20% off sale styles (up to 60% off total). I am loving the lemon rash guard set for little girls and this striped pullover, pelican tee, and roll cuff linen pants outfit for boys. But, let's be honest, all these preppy clothes are adorable. I could probably buy the whole store!
Gymboree — Everything $12.99 or under — even new arrivals. Say what!? I will be stocking up on some of Aiden's day to day stuff here. I love this Beach Hoodie, Ocean Notion outfit, sunglasses, and linen shorts.
A Child's Nook — If you are looking for a teepee for your little one or cool toddler bed check out A Child's Nook. They are offering $25 off canopies and hammocks, $50 off teepees and beds, and 10% off everything else. See graphic below for codes.
Old Navy — You can get 50% off tees, tanks, shorts, and swim for the whole family. I especially love the shorts for Aiden. I am dying over these sailboat shorts! I also love the pop color khaki shorts. I also get Aiden's bathing suits from Old Navy. There is even a similar bathing suit in dad size!
Gap — Gap is offering up to 50% off everything. Plus an extra 20% off online with the code MORE. I am getting this chambray shirt and these oxfords for Aiden. There are also lots of cute tees like this Glow in the Dark slub tee.

H&M — Get up to 60% off and free shipping. I get a lot of Aiden's day to day stuff at H&M.
Mama memorial day weekend Deals
Albion Fit — Great swimwear and athletic wear for moms. They will be adding items all weekend to the final sale section.
Destination Maternity — If you are pregnant Destination Maternity has a great sale going on with items on sale for under $10, $20, and $30. No code needed!
Gap — I love the dresses at Gap. I might grab a few for the summer. I love this off the shoulder dress which would actually work for pregnant mamas as well.

Gaiam — Take 20% off site wide using code GAIAM20 plus free shipping over $50. This store is great for anything yoga related, but I have my eye on one of these balance ball chairs. I got really into these while I was pregnant — it really helps with posture and helps alleviate back pain.

Hunter Boots — I love Hunter Boots but can't always justify the price tag. They have a Memorial Day weekend exclusive deal. You can get a pair for under $100. Plus the additional 10% I mentioned above if you join the mailing list.
JCrew — Take 30% off your purchase with code SWEET. I love pretty much everything and I love when they have great sales.
Tiny Prints — Tiny Prints has 30% off everything so if you need birth announcements, birthday invitations, or even a gift for Father's Day now would be a great time to do it.
Snapfish –I know I have a ton of photos I need to print so I will be taking advantage of Snapfish's 50% off of the site with a $30 purchase.
Are you shopping this weekend? What deals have you found?
Save
Save
Save
Save
Save
Save