Disclosure: This shop has been compensated by Collective Bias, Inc. and its advertiser. All opinions are mine alone. #BigelowTea #TeaProudly #CollectiveBias
Did you know that January is hot tea month? It is, and it makes sense. I enjoy nothing more than a hot cup of tea on a cold winter day. Tea is also like a warm hug if you have a cold or the flu. This winter has been terrible for viruses, and our area had three major strains going aroud. Unfortunately, my mother-in-law got all three and was down and out for over a month! Aiden and I felt so bad we made her our favorite go-to get well gift of homemade Chicken Noodle Soup and a Bigelow Tea get well soon card. It is so easy a toddler can help make it!
This was a really fun activity to do with the little guy especially with all the cold weather. It was a great opportunity to get out of the house and we visited our local Walmart which has a great selection of Bigelow Tea. We picked the Lemon Ginger Probiotics, Cozy Chamomile, and Orange and Spice flavored teas. While we were there we grabbed the ingredients for our favorite Chicken Noodle Soup, a mason jar to put the soup in, and card stock.
Do you know someone suffering from a cold or flu? Give the gift of tea (or just enjoy some yourself). Hover over the photo to click through to Walmart's website.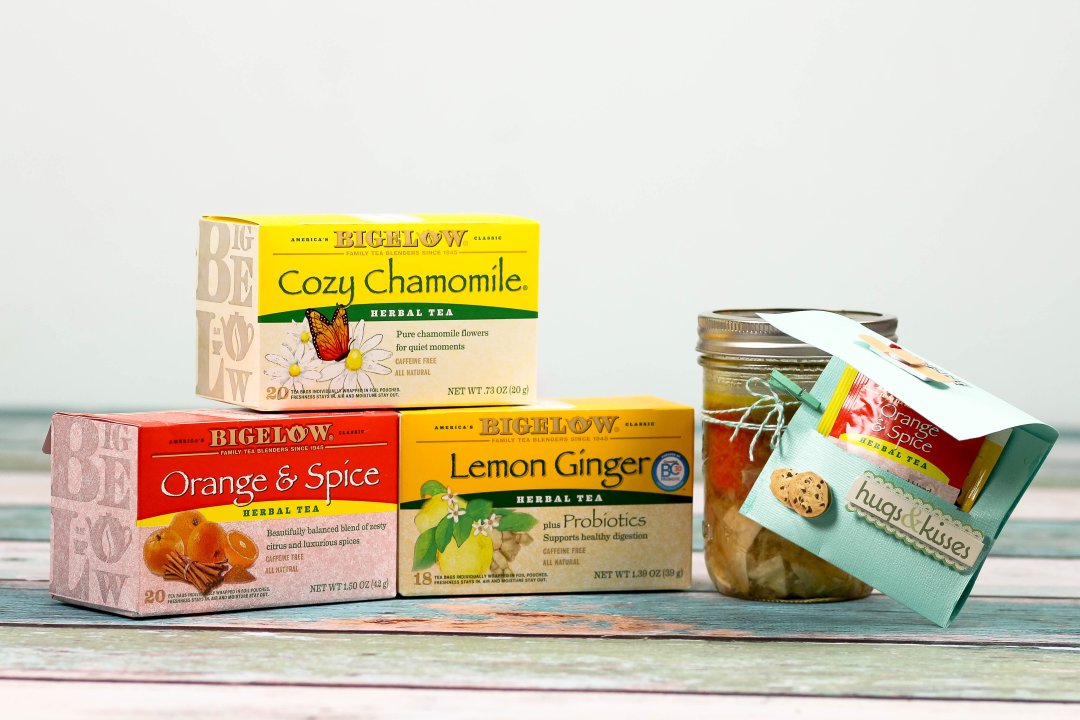 Once we were home we started on the soup. Our go to recipe is this one from My Irish Table by Cathal Armstrong. We always make enough to fill a couple of mason jars so we can have some too! When the soup is done we put it in a mason jar and let it cool.
While the soup is cooling we started on the get well tea holder card for the Bigelow Tea.
How To Make An Easy Get Well Soon Card & Tea Holder:
Materials:
Cardstock
Exacto-knife
Scissors
Pencil
Tape or Glue (hot glue works best)
Bigelow Tea
Ribbon
Tiny Clothes Pins (or something else to secure the card to the Mason Jar)
Wellness/Health Themed Stickers (we found bandaids and these cute Grandma themed stickers, which are perfect!)
Instructions
1.Fold the Cardstock in half.
2. Use the scissors to cut down the center fold.
3. Fold the long half of paper in thirds with the bottom third under the top (if your cardstock has a sku number you can cut that part off before folding).
4. Use the tea bag to measure the center cut point of the card.
5. Remove the tea bag and put a piece of cardboard between the middle and bottom thirds.
6. Cut a line between the two pencil marks you made. I used the Bigelow Tea box to ensure a straight cut, but any straight line will do.
7. Tape or hot glue the edges of the middle and bottom third.
8. Add 1-3 Bigelow Tea bags.
9. Decorate — This is where Aiden had the most fun 😀
10. Write in the cooking instructions on the inside top of the card (optional).
11. Add a string to the mason jar and secure the card to the jar with a clothespin.
Here is a quick video tutorial!

Unfortunately, we just learned that my father-in-law broke his knee! He is recovering but it looks like Aiden and I will be making another Get Well Soon Tea Gift this weekend!
For more information and to see how Bigelow Tea is celebrating Hot Tea Month visit them on Facebook, Twitter, and Instagram.
Don't forget to check out our daily adventures on Instagram and Facebook.